2015 St. Patrick's Day Parade
Flag Raising Ceremony @ Town Hall is March 8, 2015 (starts at 9:00 am)

Parade is March 8, 2015 @ Woodbridge High School (steps off at 1:30 pm) Ends at Woodbridge Town Hall.

Our Parade Chairman is Ed McSherry. Ed can be reached at 732-245-9438 or via email at bthomaia@aol.com
The 2015 Parade Theme is Education
2015 PARADE HONOREES

Grand Marshal : Principal Robert Patten (Matthew Jago School)
Irish Man Of The Year : Don Brown
Irish Woman of the Year : Dee Hahn

Miss American Irish : Rebecca Gardner
Lady In Waiting : Kylie Cahill
Parade Line-up Awards for 2015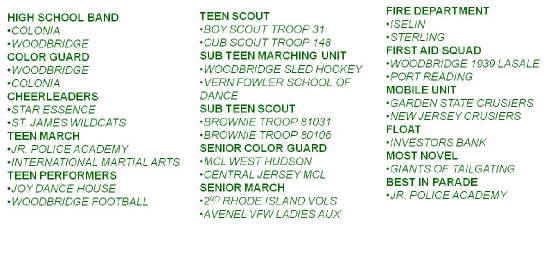 The Woodbridge Channels will be providing a replay of their coverage starting on or about March 9, 2015.
You can also watch the parade coverage online (see below).