Welcome to the Web Site of the American Irish Association. We recently celebrated our 50th Anniversary (2016~2017) as an Irish civic and social organization located in central New Jersey. Membership in our group is open to any interested individuals. Please contact us at the phone number and address above for more information. You can also complete the membership form by clicking here "
Join Now
".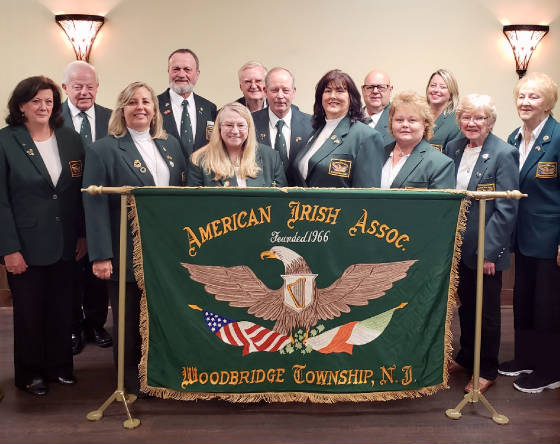 Elected for two year terms on June 2018.
President Deborah Hutchinson of the American Irish Association of Woodbridge along with our Officers and Directors. Left to right: Jane Bobel - Corresponding Secretary, Jack Cassidy - Sergeant at Arms, Cindy Jacovinich - Treasurer, Sean Keaveney - Director, Barbara Lasek - Director, John Reitmann - Director, Ed McSherry - Vice President, Deborah Hutchinson - President, Ken Egan - Director, Karen Devlin - Financial Secretary, Delores Boyd - Recording Secretary, Joan Ward - Director, Joan DIas - Director.